Welcome to SCREECH OWL BREWING
IT'S ALL ABOUT FAMILY-FRIENDS-QUALITy
PRESTON COUNTY'S OLDEST CRAFT BEER BREWERY
HOURS
Wed-Fri: 1:00PM - 8:00PM
Sat: 11:30AM-8:00PM
Sun-Tues: Closed
Kitchen closes at 7:00PM
Please Call 304-379-4777. If we are here on the farm working or in the brewery we will try to accommodate your visit during off hours. IF WE ARE WE WOULD LOVE TO SEE YOU.
BOLD BLONDE ALE
WILD & WONDERFUL STRAWBERRY ALE
THRESHING FLOOR WHEAT
HOO'S YOUR DADDY IPA
RYKER'S REVENGE IPA

ADALYN'S BROWN ALE- A winter favorite dark beer.
MUDDY CREEK ALE - Our newest hybrid Blonde Ale with loads of flavor.
BUCKWHEAT HONEY PORTER
NOT ALL OUR BEERS ARE AVAILABLE AT THE SAME TIME SO COME ON IN AND TRY WHAT WE HAVE ON TAP, CHEERS!
DIRECTIONS
2323 Ralph Livengood, Bruceton Mills, WV 26525, USA
304-379-4777

From exit 29 off I-68 going east turn right at top of exit Ramp. Heading west turn left and cross I-68 at first road on the right, turn right up the hill (Cuzzart Rd) --go five (5) miles to first stop sign. Bear left and continue straight 3/10ths mile, watch for signs on right "Chicken Lips Farm" and "Screech Owl Brewing". Do not trust your GPS, google maps, Map Quest, etc. to get you here! CALL, we will give you good directions from wherever you are. CHEERS!

YES our address is Bruceton Mills, WV, but we are actually in Cuzzart, West Virginia.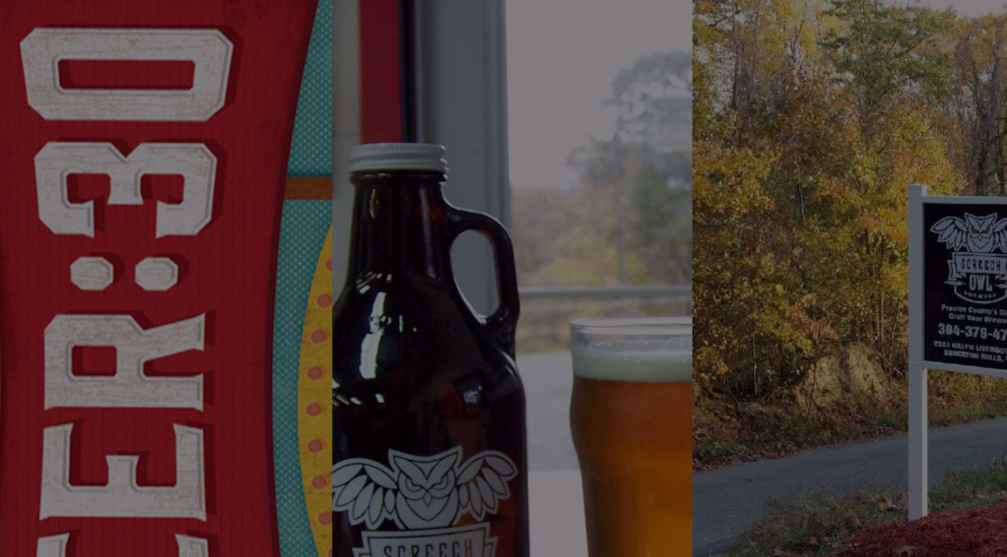 SMALL BATCH BEER CRAFTED IN THE MOUNTAINS OF WEST VIRGINIA